Heated indoor swimming pool
Trevalgas provides a superb 40ft (or 12.3m) heated swimming pool, with male and female changing rooms and a hot shower. Open daily all year round.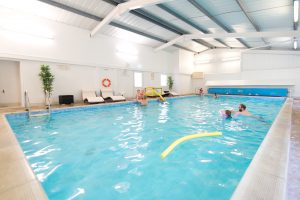 The pool is free to use. It has a constant depth of 4ft (or 1.27m) and is very popular with young families.
The pool is for the exclusive use of guests in the self-catering cottages at Trevalgas, so it's hardly ever crowded. Indeed, many visitors have arrived as non-swimmers, and have left Trevalgas as competent swimmers!
Opening times for Swimming Pool:
The pool will normally be open at 7.45am to allow for a swim before breakfast, closing at 9.00pm (July  & Aug), 8pm (Whitsun Bank holiday until end of June) or 7pm for the remainder of the year.
With such long opening hours, you can enjoy a swim every day of your stay, and whenever it suits you.
Click here for more photos
---
Outside play area
Trevalgas has its own on-site outdoor play area with adventure playground and recreation field. This area is suitable for all ages, and the recreation field is perfect for kicking a ball around with the kids.
The children's adventure playground includes a Wendy House which children love to transform into a shop, home or even a theatre. This area is designed to keep your children happy and occupied while the older children walk the wobbly plank!
For the younger children, we have some farm-themed play equipment with springy animals to ride, and a large crawl-through tractor.
And there are a couple of south-facing benches, ideal for relaxing, while keeping an eye on the children. There is a small orchard, offering a peaceful and shady retreat. Some families bring a blanket, a book and refreshments to this area. Perfect.
Access to the outdoor play area is from the car park side of the leisure building. However, occupants of Bramblewood, Blackberry, Briar Patch and Linhay have direct entry from their gardens to the recreation area.
click here for more photos
---
Games room
The Games Room has table tennis and pool tables (40p per game). (The table tennis bats and balls are provided and stored in each of the holiday cottages.)
The cupboard in the Games Room contains plenty of books and board games for guests to borrow.
---
Laundry
Three automatic washing machines, detergent dispenser and a couple of laundry baskets along with three large capacity tumble dryers.
Note: there is a modest charge for using these machines.
All cottages have irons and ironing boards and their own clothes line.
---
Wi-Fi
Since 2006 we have offered free Wireless Internet Access (Wi-Fi) in all cottages. There is excellent broadband reception over the site so you can use it in the cottages, in the gardens, the car park, or in the leisure building,
---
Food services
Our holiday cottages are self-catering, which means you are free to plan how to use your time and what and when to eat. There are plenty of restaurants, cafes, pubs, hotels, takeaways and snack bars in the local area, many of which pride themselves on the quality of their locally sourced food.
To help you enjoy your break, we offer three food services which can be arranged in advance:-
A supply of groceries to be delivered to your cottage in advance of your arrival
Order some freshly cooked meals from a local caterer
Arrange a custom-made celebration cake from Claire's Sweet Temptations
Grocery Orders
The Lansdown Dairy in the centre of Bude will deliver an initial supply of groceries in advance of your arrival. The cottage will be stocked with fresh food in your fridge/freezer. All you have to do is pop in and pay during the week!
The ordering process couldn't be easier. Use this link to the Lansdown Dairy website where you will see the Trevalgas logo. Selecting it will open an order form, with the option to send it in the post or as an email attachment. Their number, if you need to call them, is 01288 352556.
Freshly Cooked Meals
Our local catering service delivers fresh prepared quality food direct to your cottage. You might like to order a meal for your arrival or for the last night before you go home. Some guests use this service to celebrate a special occasion; others simply fancy a treat. You can even order some food to take back home with you!
Click here to see the menu  (A4 PDF document) from local chef, Nicky Vereker, who works from her Cornwall base in Widemouth Bay. This includes full information on prices and how to place an order.
All food is freshly prepared and delivered to the cottage.
If you need to discuss your particular requirements with Nicky, call her on 01288 361530.
Custom-Made Celebration Cakes
Many guest at Trevalgas combine their holiday with a special celebration. It could be a family get-together or a special birthday or anniversary. If you have a special event to celebrate while you are with us, have a look at Claire's Sweet Temptations for some ideas for your theme. Click here for more information.
---
Payphone
Whilst we appreciate that most guests have mobile phones, there is a Payphone in the Leisure Building near to the Laundry. This also serves as an emergency phone for the swimming pool.