A holiday in Cornwall is not complete without going swimming, so here are our recommendations of the best places to swim in Bude.
Bude Sea Pool – Just above Summerleaze Beach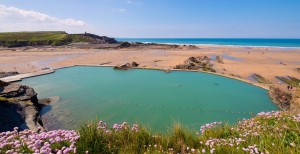 This is the Number One attraction for Bude, created in the 1930's the sea pool provides a haven for safe swimming. It is 91m long and 45m wide and is filled by the Atlantic Ocean.
Opening times: Open all year round, it is recommended you don't swim at low tide, or at night, and make sure there are more than one of you in the pool at any one time.
Cost: There are no charges to use the pool, but donations are welcome to help cover the costs of maintaining the pool. These are the blue tins in the cafe's and shops around Bude.
Temperature: 11C April to 18C in August
Trevalgas Cottages – 5 min drive from Bude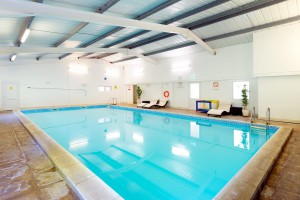 If you are staying in one of the cottages on the complex, then using the newly refurbished heated indoor swimming pool is a must. You can swim lengths, mess around or just lounge by the pool reading a book.
Opening times: The pool is open 7.45 – 9pm in peak season, and slightly shorter hours out of season.
Cost:There are no charges to use the pool, but you have to be staying in the one of the Trevalgas Cottages to gain access.
Changing Facilities: Our newly refurbished changing rooms have lovely warm showers, and plenty of room for all the family to change.
Blackberry |  Bramblewood  |  Briar Patch  |  Chestnut  |  Linhay
The Ocean
If you love swimming in the sea, then there are plethora of beaches in and around Bude. The two Bude Beaches are Summerleaze and Crooklets, both winners of the Seaside Awards for water quality, facilities and management.
Summerleaze Beach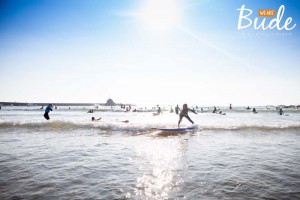 Situated only 5 minutes from the centre of Bude, Summerleaze is in a great location and home to the Bude Sea Pool (see the number one attraction).  The Lifeguards are on duty over Easter, and from 1st May – 30th September. Be aware the Bude Tidal pool is hidden in high tides and there are strong rips near the river.
Opening times: all year round
Cost: It is free to use the beach, car park charges apply.
Temperature: 11C April up to 18C in  August.
Click here to find out more about Summerleaze Beach
Crooklets Beach
Situated a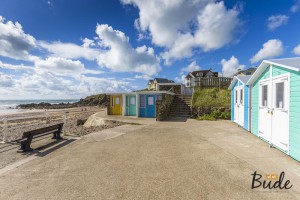 t the North Side of Bude, it is a slightly pebbly entrance onto the golden sands of Crooklets Beach, but definitely worth it. The wide expanse provides ample space to swim, and to enjoy the dramatic coastline.
Opening times: all year round – Lifeguard 14th May – 25th September
Cost: Free to use the beach, car park charges apply
NEW:  There are the newly refurbished Crooklets Central Beach Huts that can be hired on daily basis.The stylish huts range in size from small to extra large, with some that are fully accessible and perfect for families and those with limited mobility.
Temperature: 11C April up to 18C in  August.
Click here to find out more about Crooklets Beach
Splash Pool Bude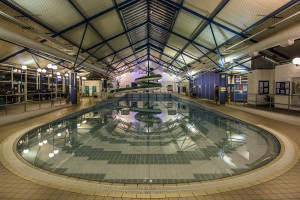 If you love the waves, but the temperature of the sea is a little too cold for you, then why not try out the Splash Leisure pool in Bude? The wave machine and flume are a great alternative when the weather is a little chilly.
Opening times: 6.30am – 9pm Time limited to 1.5hr slots in peak season. Check the website for time for the waves and flume.
Cost: Adults from £4-.30 – £6.60 Children, £3.20-£4.50, under 4's Free
For those of you wishing for a bracing sea water swim, check out this handy temperature table, so you can plan your visit.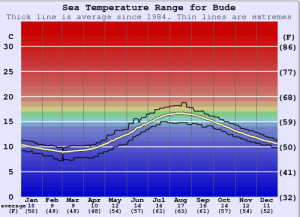 We hope you have found this useful, remember if you are swimming in the sea always swim between the red and yellow flags and adhere to the RNLI Swim Safety guidelines.
Acknowledgements.
Visit Bude – Thank you for the use of the photos of the beach hut and summerleaze beach
Bude Sea Pool – Thank you for the beautiful photo of the Bude Sea Pool as our header image by Tim Martindale and for the lovely view of the sea pool from the cliffs by Rob Kier FoBSP